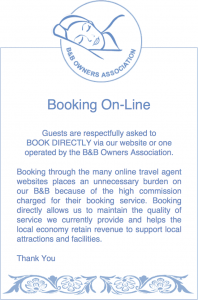 When guests book via your website or https://book-a-bnb.com the pay NO or little commission.
It does no harm to remind them of that fact.  Many guests don't realise how much they are giving to the likes of booking.com and others.
I have designed a simple sign that you can print out and display in your reception area, perhaps next to your business cards.
You can download and print out the sign from here book-directly.pdf
Every little bit helps – good Luck
Michael – B&B Owners Association – email: support@bnbowners.comrea.
SaveSave