In addition to the new website designs for Full Members, we have been working on making our room availability module work for ALL members both Full and Associate.
Displays Availability of every room in your B&B / Guesthouse
Rooms can be displayed by number or name eg. Room 3 or The Lilac Room
Rooms can be added or removed with a few clicks
Bookings from 3rd parties are easily added by clicking on the calendar allowing your website to display true availability
Your daily guests arrivals & departures are displayed and those with STRIPE can collect payment with one click
Bookings can be confirmed either automatically or manually (single click) as is the current practice
Last Minute Deals: Any bednight can be discounted by a fixed amount or % and will be displayed as a Last Minute Deal if not sold 15 days before arrival date – additionally all rooms can be discounted if not sold 15 days before arrival date
Special Offers: Can be displayed for multiple night stay or Special Events or Occasions (e.g. multiple nights can be discounted or for Events rates increased)
Last Minute Deals & Special Offers are syndicated to all our websites and our Red Dot Deals website
Minimum Nights Stay: All rooms can be allocated a minimum night stay
Website shows changes to availability instantly and automatically
Double, Triple or Family rooms can be offered with under occupancy rate e.g. Single Occupancy
Advance the Calendar by Day, Week, Month and Year to view overall occupancy
List all Current Bookings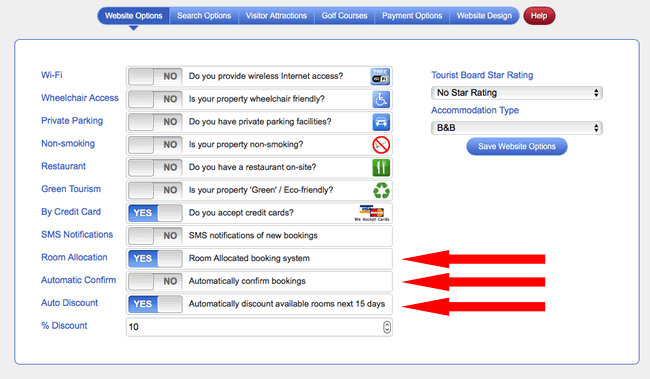 To use the facility on your webpage or website click on Website Option at the top of your "My B&B" admin panel, select 'Room Allocation" – then log out and log back in – click "Rooms & Rates" and you'll see the Calendar inviting you to add your first room – click the '+' sign to add more rooms.