Room & Rates Calendar – from your support team support@bnbowners.com
Due to feed back from members we have made some subtle changes to the way you can manage each bed night on the calendar.
Click any available bed night (room/date) as shown below……..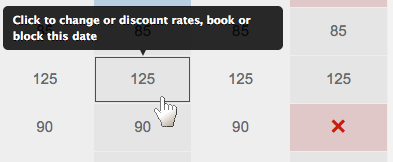 and a pop up box will give you THREE choices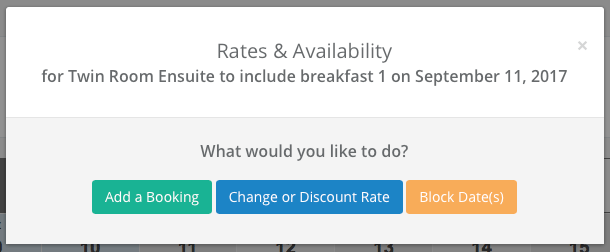 ---
ADD A BOOKING – this allows you to add a booking from 3rd parties, telephone or email booking. It will then update your website or webpage to show this room/date is sold. It also displays on your calendar with the guest name and adds them to you arrival/departure page.
CHANGE OR DISCOUNT ROOM RATE – this is a very powerful tool as it allows you to:-

Change the rate for any day or period e.g. seasonal rates, bank holidays or events in your locality
Set a discount for a day or period – this can be used to sell last minute rooms and any discounts up to 15 days hence are marked as Last Minute on our website and the B&B featured at the top of the page.
You can change the minimum stay at busy times e.g. min stay 3 nights in high season
You can apply an different rate for any day of the week e.g. increased rate for weekends (Fri & Sat)
You can disallow under occupancy for any date or period e.g. room can't be sold as a single in high season.

BLOCK DATES – This allows you to block off any room or all rooms for a given date or period. On your website or webpage this shows that room(s) are not available for the period selected – you can use this when you are closed for holidays, family illness or for any reason you wish. Just be careful and always check the changes on your website/webpage.
Please feel free to comment on this article but if you want a quick response from us please email support@bnbowners.com