The Stripe payments system has be installed for 3 years now and we're very keen to hear feed back from our members on its good points and bad points.
Please add your comments to this post either negative or positive on how you find using it.
Also for those that have not added the STRIPE Payment Gateway to the admin panel, we welcome any questions on the benefits of STRIPE and how easy it is to use.
It costs nothing to apply and there are no monthly charges – don't use it and it costs you nothing.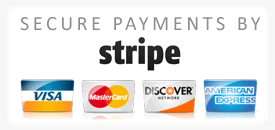 The single benefit that members have stated in feedback is how transparent it is in use – allowing them to take full amount, deposit or balance with just one click.
The virtual terminal is also a favourite, allowing all members to take payment by credit card without the need for a merchant account or PCI compliance.