The dashboard (https://my-bnb.com) is designed to manage your room rates & bookings but also contains some handy marketing tools, a virtual credit card terminal and statistics on your website bookings performance (Advertisers can only monitor Click throughs).
Each member has a mobile friendly dashboard with the following features:-
Stripe Payments System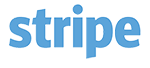 The Stripe 'credit card payments system' is fully integrated into the "MY B&B" dashboard. Take payments for deposits, full amount or no-shows with just one click. The is also a virtual terminal that allows you to enter either the booking reference number or credit card details directly. To make the collection of payments truly mobile - you can turn your smartphone into a portable terminal by logging on to https://terminal.my-bnb.com.