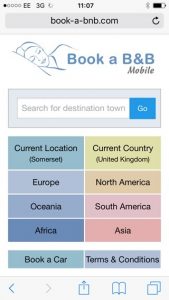 A number of members have asked ARE WE MOBILE FRIENDLY ?
This means can our members B&Bs be FOUND, SEEN and BOOKINGS made by mobile phone users. The simple answer is YES
Some months ago we introduced http://m.book-a-bnb.com – this site is compatible with all mobile devices tablets and smartphones.
If anyone using these devices lands on any one of our websites or websites of our full members, they are automatically diverted to the mobile site above where every member full or associate has a booking page. This is a mobile friendly site designed for specifically for tablet & mobile phone users
Additionally, we are working on a free upgrade to our full members websites a truly responsive website design for members that will display and work on all devices.
This will be available next month hopefully and you will be given the option to upgrade free of charge – we normally upgrade our members websites every 3 or 4 years to keep pace with changes in technology.
For Associate members that want a mobile friendly web site to replace their existing websites  – You will be able to upgrade to full membership and benefit from a mobile friendly website – plus the added bonus of commission free bookings.
MEMBERS SUPPORT: Please use the email support@bnbowners.com if you wish to communicate with us – some members are wondering why we don't respond when they are using our old email addresses.