We have now modified the My B&B admin panel (https://my-bnb.com) so that bookings can be managed in two extra ways.
If you wish to cancel a previously confirmed booking for personal reasons
If a guest cancels by phone or email unknown to us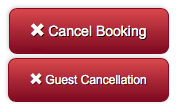 Click on any booking and these two additional buttons will appear
The "Cancel Booking" button will remove the booking from your list, present you with an email to explain and refund any booking fees involved to the guest.
Guests often cancel by phone or email instead of using the cancellation facility on their booking status page (https://your-booking.com) – to update your booking/calendar and tell the booking system of the cancellation – click the "Guest Cancellation" – If a guest cancels they have been informed that booking fees will not be refunded. Since we introduced this in our terms, cancellations are now a fraction of what they were.